Yanaphaqcha Expedition 2019:
This very rigorous expedition was designed for folks that want the 'condensed' version of our Ishinca Valley Expedition. Like the aforementioned course, the curriculum will be at an intermediate to advanced level for experienced climbers that wish to become professional guides, self-sufficient mountaineers, and effective leaders that can manage groups in high consequence mountains.
Yanaphaqcha (~18,000′) is located in the Llanganuco Valley, 4 hours north of Huaraz, Peru. The course curriculum will focus on technical skills for professionals, leadership skills for outdoor educators and guides, self rescue techniques, short roping/pitching, decision making in avalanche terrain and high altitude mountaineering. We also have the option of making an attempt on Pisco (~18,800′) during the last 3 days of the course. Yana makes for a perfect acclimatization peak and serves as a perfect classroom to develop the complex skills that students need to lead each other on Pisco.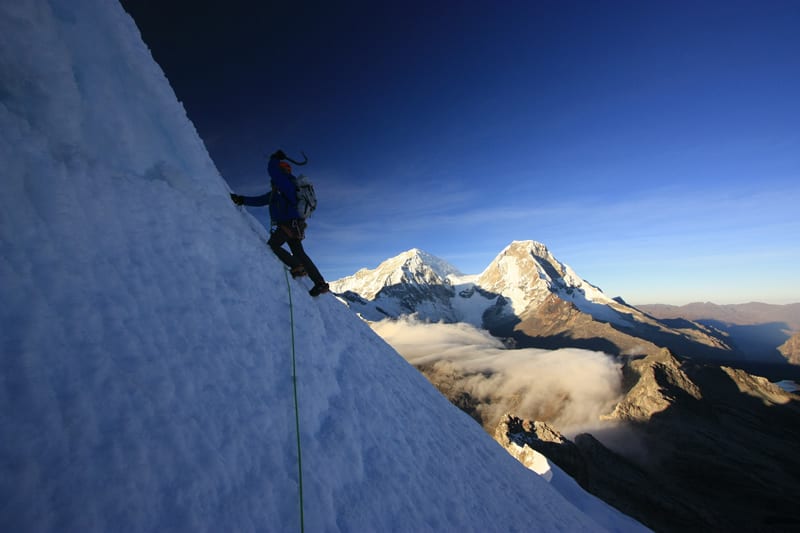 Photo: Student Anthony Gaugliano leading the summit pitches on Yana
When: July 25-30, 2019
Where: Cordillera Blanca, Peru
Tuition: $2,125 with 4 students
College Credit: 3 (available through Green Mountain College, contact us for details)
Scholarships available:
SIET General Scholarship App 2018
50-50 Scholarship 2018
Certificates of Completion: will be decided on as a group; certificates will be chosen from the following categories:
Avalanche Awareness
Companion Rescue
LNT Trainer (optional)
Mountaineering Leadership Course Diploma
Who: You! And only 3 other participants, and one instructor. The small course size and ratio will allow students the intensive supervision they need for the challenging terrain they will be working in. This course was created as a number of folks that expressed a desire to take the Ishinca Valley Expedition couldn't find the time for a longer 3 week expedition. They wanted to develop their skills as a mountaineer at extreme altitude with high-level instruction. This course is an answer to those requests. Students should expect very long days, both physically and academically. Plan on 8 hour days on glacier and/or rock, plus ~1 hour of gear/food prep per day and 1-2 hours of homework each night. If you're looking for a vacation, keep looking…
Gear Checklist High Altitude Expeditions
Prerequisites for Yana Expedition
Please don't hesitate to call or email with questions about this unique course! Contact Us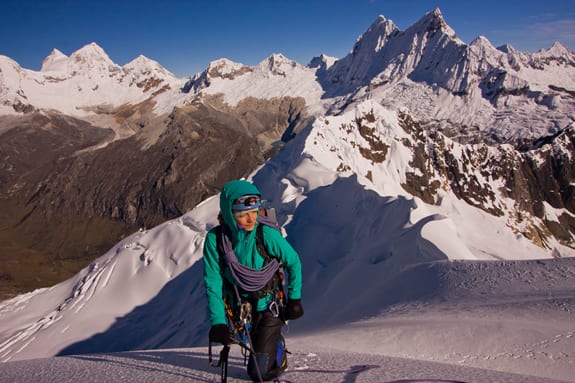 Marisol Sullivan high on the summit ridge of Yana
Course Curriculum:
Security in Developing Nations

personal and group security techniques
options for emergency scenarios

International Travel Considerations

respecting culture specific etiquette
cultural expectations: the dangers of bringing U.S. expectations to other cultures

Nutritional Considerations

carb/fat/protein ratios for high altitude
formulas for creating a meal plan

Organizing an Expedition

obtaining food, fuel, and transportation

Conducting Business with Porter & Cooks

what they will expect from you
what you can expect from them

Camp Craft: Advanced techniques

tents, kitchens, snow camping, storm proofing, etc

Equipment

appropriate use and care
common industry standards

Leave No Trace Principles

the 7 LNT Principles
the LNT Trainer Certification is optional

Leadership Techniques

creating and maintaining an effective group dynamic
expedition behavior
communication
conducting meaningful debriefs

Risk Management

risk assessment
wilderness first aid
conducting evacuations
creating route time plans
common industry standards
acceptable risk
case scenarios
High Altitude Physiology

acclimatizing strategies
AMS, HAPE and HACE: signs and symptoms, treatment, evacuations and common industry standards
heart rate and oximeter charts
case scenarios

Avalanche Terrain Assessment
Glaciology and Basic Geology

glacier dynamics and features
reading glaciers
mountain building

Glacier Travel and Rigging

route finding
rope team drills
common industry standards

Rope Team Management

belaying
movement
communication
running protection
creating perimeter camps

Meteorology: Mountain Weather

forecasting
charting local trends

Snow/Ice Climbing

crampon and ice axe techniques
movement
track setting

Snow/Ice Anchors

picket placement techniques
anchor assessment

Crevasse Rescue

pulley systems
rescue drills
common industry standards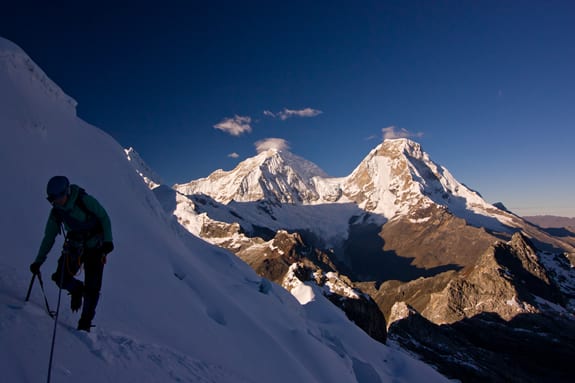 Approaching the West Face of Yana with Huascaran North and South in the background

Costs Include:
All in-country transportation during expedition
All hotels during the expedition
All group climbing gear
All meals while in the field
Park fees
Permit fees
Porters
Burros/Horses
Camp Cooks/Watchmen
Costs Do Not Include:
Wire transfer fee or PayPal fees
Airfare
Hotels before/after the course ($8-40/night)
Meals in Lima or Huaraz (plan on $10-20/day)
Personal gear (listed on the gear list)
Bottled beverages
Excess baggage charges and airport fees
All expenses incurred in the event of early departure or delayed arrival (evacuation fees, transport, extra hotel nights, etc)
Fees associated with college credit or credit transfer
Please note: any expedition that is under enrolled will be canceled 6 weeks before the expedition begins. In such a case, a full refund will be available. This has yet to happen on any SIET expedition.