Located in the Northern Andes, the Cordillera Blanca of Peru is one the world's most impressive high altitude mountaineering venues. The breathtaking pyramids of snow and ice that make up 'The Blanca,' as its respectfully referred to, soar up to 22,200′ and contain more than 30 peaks over 18,000′ tall. Unlike many other ranges that have such enormous mountains, our basecamps are easily accessed in a single day from Huaraz. This allows our expeditions to enjoy more time climbing in the alpine zone and learning mountaineering skills and less time on the approach to base camp. We will aim to climb Urus (~17,900′), Ishinca (~18,200′) Tocllaraju (~20,000′) and possibly Ranrapalca (~20,000′). The ultimate goal of the expedition will be for students to lead the summit bids on these glaciated peaks, to push their limits with instructors near by and ready to take over if need be, and to learn the skills needed to lead similar expeditions on their own after the expedition.
Highlights include:
High altitude climbing up to ~20,000′
Rescue skills for professional mountain guides (rock, ice, avalanche, and crevasse rescue)
Avalanche terrain and snowpack assessment in high consequence terrain
Snow and alpine-ice climbing
Leadership skills for aspiring mountain guides/outdoor educators
2023 Dates:
June 16 – 29 (FULL)
Course Cost: $3,325
Scholarships:
SIET General Scholarship-2020
50-50 Scholarship 2020
Certificates of Completion Available:
Avalanche Field Course
Companion Rescue
LNT Trainer (optional)
SIET Advanced Mountaineering Course Diploma
College Credit: 3-5 (Contact us for details)
Gear Checklist High Altitude Expeditions
Prerequisites for Ishinca Expeditions
Course Description:
This course starts in the beautiful mountain town of Huaraz (~10,000′ and about 8hrs north of Lima) where we will stay in a family-run bed and breakfast called Familia Mezza. We will spend the first three days acclimatizing, engaged in interactive classes, organizing food and gear, and preparing for the mountains. After about a half day of hiking, we will arrive at our base camp at about 14,300′ in the Ishinca Valley. We will spend the remainder of the trip developing educational outcomes and making summit attempts from our base camp. The expedition will be supported by burros and burro drivers, known as 'arrieros,' as well as a camp cook/watchman.
"The location is one that I will never forget and will definitely return to. I also thought the Blanca served the purpose very well as a mountaineering and international expedition training ground." -Dane Sterba, Prescott College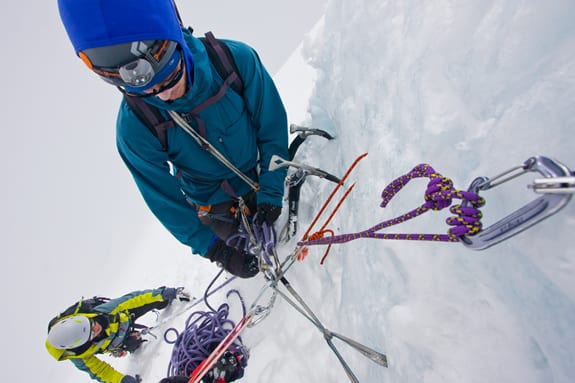 Detailed Course Curriculum:
Security in Developing Nations

personal and group security techniques
options for emergency scenarios

International Travel Considerations

respecting culture specific etiquette
cultural expectations: the dangers of bringing U.S. expectations to other cultures

Nutritional Considerations

carb/fat/protein ratios for high altitude
ration planning formulas for creating a meal plan

Organizing an Expedition

obtaining food, fuel, and transportation

Conducting Business with Porter & Cooks

what they will expect from you
what you can expect from them

Camp Craft: Advanced techniques

tents, kitchens, snow camping, storm proofing, etc

Equipment

appropriate use and care
common industry standards

Leave No Trace Principles

the 7 LNT Principles
the LNT Trainer Certification is optional

Leadership Techniques

creating and maintaining an effective group dynamic
expedition behavior
communication
conducting meaningful debriefs

Risk Management

risk assessment
conducting evacuations
creating route time plans
common industry standards
acceptable risk
case scenarios
High Altitude Physiology

acclimatizing strategies
AMS, HAPE and HACE: signs and symptoms, treatment, evacuations and common industry standards
heart rate and oximeter charts
case scenarios

Avalanche Terrain Assessment
Glaciology and Basic Geology

glacier dynamics and features
reading glaciers
mountain building

Glacier Travel and Rigging

route finding
rope team drills
rope team communication
common industry standards

Rope Team Management

belaying
movement
communication
running protection
creating perimeter camps

Meteorology: Mountain Weather

forecasting
charting local trends

Snow/Ice Climbing

crampon and ice axe techniques
movement
track setting

Snow/Ice Anchors

picket placement techniques
ice screw and abalokov anchors
anchor assessment

Crevasse Rescue

pulley systems
rescue drills
common industry standards
Not included in the curriculum: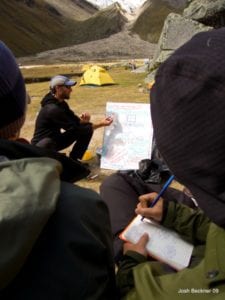 This is an advanced mountaineering course. In order for all students to start and stay on the same page, it is imperative that all students on international expeditions come to the course ready to receive a brush up on fundamental skills (tips and tricks for tent pitching, snow camping, stove use/cooking, pack packing, etc) and ready to focus on more complex skills such as those listed above. Please see the 'Prerequisites' above and be sure you meet all of them.
Tentative Itinerary (Italics indicate class titles):
Day 1: Meet in Huaraz (~10,000′) Orientation, Risk Management; Nutrition for Expeditions; Ration Planning; Food Purchasing; Expedition Planning.
Day 2: In Huaraz: acclimatize and prep. High-altitude physiology; Glacier Rigs; Expectations; Risk Management in Developing Nations; Hygiene; Sat Phone Use.
Day 3: In Huaraz: acclimatize and prep. Climb to Lago Churup, ~14,700′. Permitting Issues; Leave No Trace, Geology and Glaciology of the Andes.
Day 4: To Ishinca Valley base camp (~14,300′). Porters, Cooks and Arrieros; Base Camping
Day 5: Skills development day, acclimatize. Knots and Hitches Review and Nomenclature; Ice Axe and Crampons; Glacier Rescue Techniques; Advanced Rap Techniques; Anchor Building; Rescue Options for International Expeditions
Day 6: Acclimatization trek (~16,200′). Leadership Techniques; Picket and Ice Screw Placement; Snow and Ice Anchors; Glaciology for Mountaineers, Rope Team Travel, Advanced Sling Craft; Route Planning Techniques; Time Plans
Day 7: Climb Urus (~17,900′); Instructors role model route finding, technical transitions, rope team leadership and communication, etc.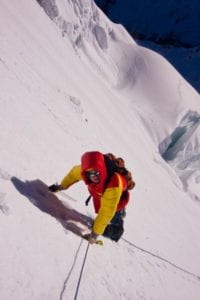 Day 8: Debrief Urus ascent; skills development day. Route Finding; Rope Team Management/Communication; Advanced Alpine Rappel Techniques
Day 9: Climb to Ishinca high camp (~16,100′). Avalanche Assessment
Day 10: Student lead ascent of Ishinca (~18,200′)
Day 11: Debrief, rest, skills sessions: Short Rope and Short Pitch Technique; Mountain Weather; Advanced Lead Theory
Day 12: Climb to high camp on Tocllaraju (~17,000′)
Day 13: Student led ascent of Tocllaraju.(~19,900′)
Day 14: Rest, reflect, debrief, hike out, traditional Quechua dinner with locals in Pashpa
Day 14: Transfer to Huaraz, debriefs, evaluations, 'next steps,' celebration dinner!
"I learned more than I ever thought possible in a two week period, thank you!" -Jeff Rome, Prescott College
Costs Include:
All in-country transportation during expedition (starting from Huaraz)
All hotels during the expedition
All group climbing gear
All meals while in the field
Park fees
Permit fees
Porters
Burros/Horses
Cooks/Watchmen
Costs Do Not Include:
Wire transfer fee or PayPal fees
Airfare
Hotels before/after the course ($8-40/night)
Meals in Lima or Huaraz (plan on $10-20/day)
Personal gear (listed on the gear list)
Bottled beverages
Excess baggage charges and airport fees
All expenses incurred in the event of early departure or delayed arrival (evacuation fees, rescue, transport, extra hotel nights, etc)
Fees associated with college credit or credit transfer
Please note: though we've never had to do so, any expedition that is under enrolled will be canceled 6 weeks before the expedition begins. In such a case, a full refund would be available.